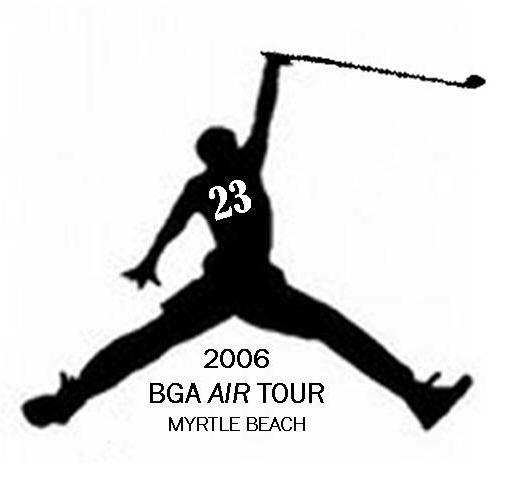 The BGA - Twenty Three Years of Southern Tour Golf
XXIII is the AIR TOUR and it is for the 23nd Annual , BGA Event
23 is MJ's number and this year provides a fitting theme for the event which will highlight many courses in the Jumpmans former digs of North Carolina. How do you live that rock and roll lifestyle? - you pony up for the 23rd year of this great golf tour! The Cardell boys just keep on making this event better and better as many lives orbit around this full week of good clean fun. This is why we toil in servitude the other 51 weeks of the year to make this week the greatest annual experience to live on in our hall of fame memories. Soon walking canes will be a standard edition in the bag as the elders are turning senior status (some of which have to make a party out of turning 6 decades to refrain from mourning the passing of time) while still whipping up on the flatter bellies (flat bellies all but gone). There are still the old standbys like Calcutta with a new betting twist, the Bush Bowl Battle with ongoing visual drama, Skodies, Animals, putting contests, and of course the special social interaction with some guys who only see each other but once a year at this annual tradition of hitting golf balls around like they are trying to hurt us. Ah the smell of Ben Gay in the air with sides of Tums, Advil and where the hell are my reading glasses - what did he say - what was I talking about - where are we going, as popular phrases. But hey you are only as old as you feel and I only feel as old as the BGA or 23 and in my prime. Now for the prime time of your life here is a quick summary of this years planned event. Keck is once again creating the BGA Booklet with all of the sorted details so this makes my job of informing the masses easier as you can get all of the details onsite without making a copy of the web page for the agenda. As I know many are chomping at the bit for BGA info we still take the time to outline the major aspects of this years event and summary of years past at your fingertips. So get out those reading glasses and squint over these details that will start your juices flowing.
Note: Click on the "Hackers" link above to see past BGA Events.
2006 BGA XXIII TOUR EVENT LINE UP April 29 - May 5, 2006

DAY

TEE TIMES

COURSE VENUE

TENTATIVE GAME

COMMENTS

SATURDAY (1)

12:00

Arrowhead

3-2-1 Old School

Kick off at old favorite that is close to 501 & the Airport

SUNDAY (2)

8:00

Myrtlewood

Morning with WIPA vs ROTC Teams?

Early Tee Time front end of 36

SUNDAY (3)

1:00

Myrtlewood

Two Man Scramble

"XXIII 7th Annual Bush Bowl"

Drunken Scramble

"Bowl Brothers 2006 defending Champs" Tourney

SUNDAY EVE

Drunk &

Loaded

New Rules

CALCUTTA AUCTION

AUCTION For MONDAY CALCUTTA MATCH-UPS

MONDAY (4)

1:00

Rivers Edge

2006 Calcutta

Money Match-up from Sunday night Auction with revised rules

TUESDAY (5)

1:00

Crow Creek

Wolf on the water

Links on the Front & Forest on the Back

TUESDAY

---

---

Putting Contest

WEDNESDAY (6)

7:30

Legends

Race of the Horses

Betting the order the horses Early Tee Time front end of 36

WEDNESDAY (7)

12:45

Legends

Backstretch of the track

The turn could prove fatal

THURSDAY (8)

1:00

Tigers Eye

Fore Skins Game

Island greens and elevation changes - bring extra balls!

THURSDAY EVE

---

---

2006 SKODIE TOURNEY

THURSDAY EVE

---

---

TEAM DRAFT NIGHT

Shirts Hand Out

FRIDAY (9)

Cinco de Mayo Tourney

12:15

Thistle

Team Earl vs Team Crawdad

Will the rules change again to keep Earl as a continuous captain?

FRIDAY EVE

7:30

Your Place

BANQUET NIGHT

2006 BGA AWARDS

Will we be on liquid diets?
2006 Handicap Brackets
| | | |
| --- | --- | --- |
| Bracket | Strokes | Players |
| Depths of Hell | -6 | T List (May get a lawyer to file appeal) |
| Sub-Base | -2 | Joe Judd |
| Base | 0 | Stan, Cuzi, Yip, Tex |
| Free-Base | 2 | Ashman, Crawdaddy, Probst-Rookie, Kimball |
| Wanna Bees | 4 | Coke, Krami, Dan, Doc, Newt |
| Strikers | 6 | JC, CC, Loffy |
| Strokers | 8 | Huffy, Swany |
| Hackers | 10 | George, Bohm, JT, Keck, Miser-Rookie |
| Honkers | 12 | Tony, Harding, John Cal |
| Baggers | 14 | Gala, Lloyd, Hendi |
| Slashers | 16 | Earl, Kalich |
| Bonkers | 18 | Griff, Phil(Sandbagger), RichMark |
Remember your Bracket and count your strokes!
2006 BGA HOUSING
The housing for 2006 is the same fine accommodations from last years BGA housing as everyone will be staying at the Condos of Myrtlewood again. There will be a couple of Texas Condos again so look out for the Lone Star boys. Also check with them Texans for late developments on the traditional Texas BBQ on opening (officially Friday) night to place your first bets and getting the official Keck-Off Book with all of the important info for 2006.
2005 BGA Green Jacket Winner - Dave "Crawdaddy" Crawford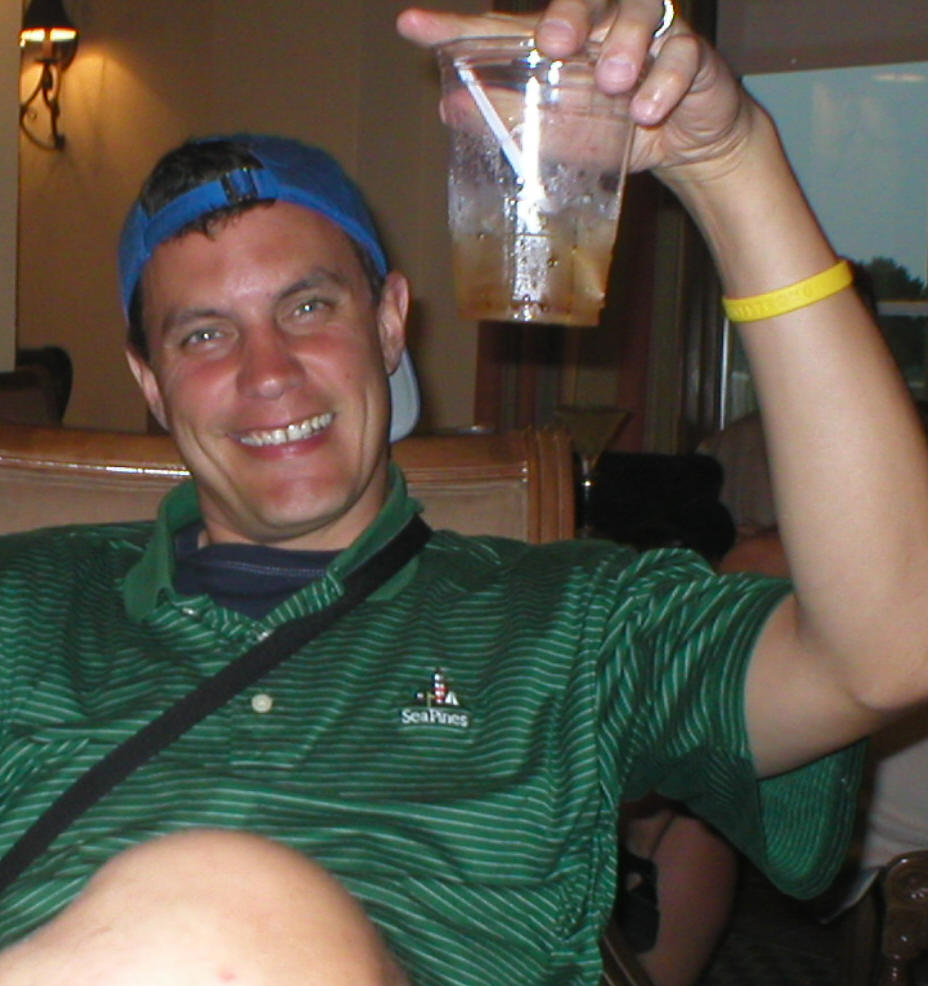 2005 Bush Bowl Champs - The Bowl Brothers - JT & Tex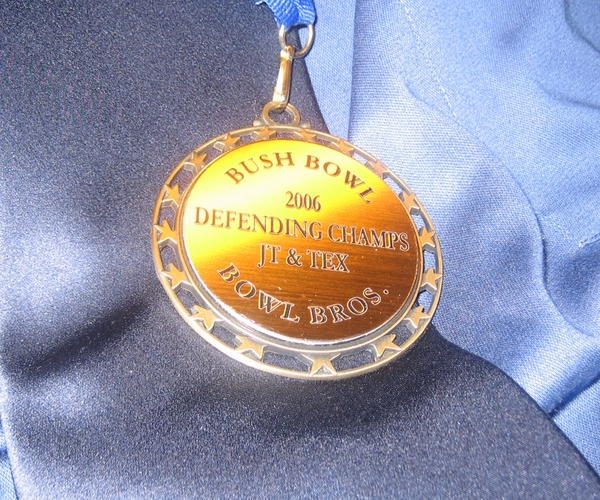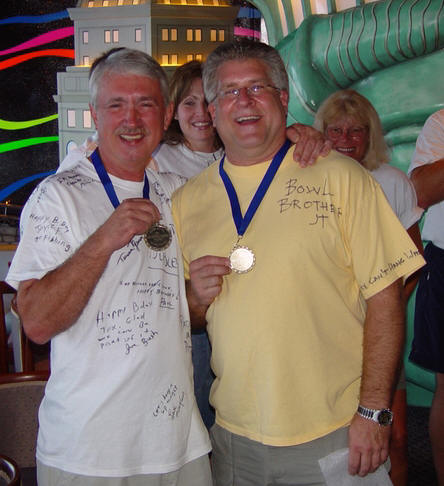 2005 Items to remember (off of the award chart)
A CRAWDAD SWEEP OF SORTS-NOT!
The Team of JC & Crawdaddy won the Horserace due to injections of Crown during the race. Crawdad also teamed up with Tony to win the putting contest. On top of his Jacket performance during the final tournament Crawdad also managed to win the Calcutta for his owners. Lets see - Jacket, Horse Race, Calcutta, and the Putting Contest - quite a showing.
It was an amazing year for Crawdad, with the exception of his encounter with the ever powerful Bowl Brothers, he almost took a sweep to the house (Add an assist to Coke for wining the Skodie cap-wow imagine that Coke places another no vote for a unanimous decision). Just goes to show you that those Bowl Brothers do not lay down for just anybody. Stay optimistic you Bush Brothers as you two will one day have the maturity and experience that the Bowl Brothers enjoy.
Bush Bowl - is it less filling or just great taste?
Congrats also go to Doc, JC & Gala for getting voted on to the Executive Council in 2005.
BGA AWARD HISTORY

YEAR

JACKET MAN

IRON MAN

ROOKIE

BEST DRESSED

SKODIE MASTER

1984

Marty Skodechek

None

None

None

None

1985

Tim Moore

None

None

None

None

1986

John Callaghan

None

Jeff Check

None

None

1987

John Callaghan

"Shulu" Shayka

Mike Cirba

Tim Moore

None

1988

Jim Mortimer

Dan Cardell

Tony Cardell

Jeff Check

None

1989

Lloyd Hamashin*

Dave Coughenour

Paul Gruseski

John Callaghan

None

1990

Dick Gongaware

Chris Cardell

Ralph Borrello

Tim Moore

None

1991

Mike Fapore

Earl Newsome

Stan Skiba

Chris Cardell

None

1992

Dan Cardell

George Balocik

Bob Kramer

Earl Newsome

None

1993

Chris Cardell

Mark Keckeisen

Terry Adams

Mark Keckeisen

None

1994

Stan Skiba

Lloyd Hamashin

Pete Cahill

Tim Moore

None

1995

George Balocik

Milo

Steve Joosten

Jim Quinn

John Cal

1996

Mark Sikorski

Milo

Jeff Pederson

JT Burk

Mark Sikorski

1997

Bob Kramer

Jeff Pederson

Joe Judd

Bob Kramer

Dan Cardell

1998

Dave Coughenour

Chris Cardell

Mark Kimball

Earl Newsome

Mark Kimball

1999

Tony Welka

George Balocik

John Henderson

Jim Quinn

Milo

2000

Joe Judd

J.T Burk

Dale Newton

Dan Cardell

Dan Cardell

2001

Earl Newsome

J.C. Burk

J.C. Burk

Chris Cardell

Stan Skiba

2002

Tony Cardell

Earl Newsome

Phil Bro

Dave Crawford

Joe Judd

2003

JT Burk

George Balocik

Steve Thoe

Dave Crawford

Dan Cardell

2004

Steve Joosten

Kramie

Bill Ash

Joe Judd

Stan Skiba

2005

Dave Crawford

Milo

Kurt Loftgren

Dan Cardell

Dave Coughenour
Note: Click on the "Hackers" link above to see past BGA Events.